Matthew Roberts DC, ATC

Coming Soon!

Adam Pitsinger DC, CCSP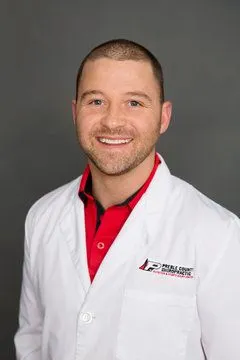 Dr. Pitsinger has extensive training in chiropractic technique, rehabilitation, nutrition, and soft tissue therapy. He also has a special interest in the diagnosis and treatment of digestive disorders. He is board licensed and certified by the National Board of Chiropractic Examiners. Dr. Pitsinger has been published in the Journal of Chiropractic Medicine on the topic of food allergies and gluten neuropathy.
Dr. Pitsinger has obtained the postgraduate designation of Certified Chiropractic Sports Physician ® (CCSP ® ) by the American Chiropractic Board of Sports Physicians™ (ACBSP™). The CCSP ® certification requires the doctor to attend a minimum of 100 hours of a 120 hour postgraduate program. This instruction is specific to physical fitness and the evaluation and treatment of injuries encountered in sports. Following the completion of these hours, the doctor must then take and successfully pass a comprehensive written examination. This training will aid the doctor in the prevention and treatment of athletic injuries by enhancing his diagnostic skills and patient care. The CCSP ® certification exists to provide a uniform standard of education that assures teams and athletes that the doctor has met a minimum level of competency in chiropractic sports medicine. Dr. Pitsinger joins over 5500 others internationally who hold this designation.
Dr. Pitsinger is a graduate of Eaton High school where he played varsity football and track. He received his undergraduate degree from Miami University in Oxford, OH. He received his doctor of chiropractic degree from National University of Health Sciences in Lombard, IL. He currently resides in Eaton with his wife, Alexi, and kids.